We Do the busy Work, and You get The Savings!
Shop Smoothdeals.com and find smooth deals on everything for your beautiful little girl. We work every day to bring you discounts on new products, clothing and accessories for your little Princess. Whether you're looking for hard to find, new, gently used or one of a kind girl stuff, you've come to the right place!
We're Making Smooth Deals at Smoothdeals.com! ®
Smoothdeals.com provides your child with a just-her-size piece of prettiness to curl up on with a good book or to play her favorite video game.
Available in many varieties and shapes, our scaled-down furniture is a great decorative accent for your little girls space in the living room, playroom, or bedroom.
Choose one or better yet let her choose, she'll love you even more!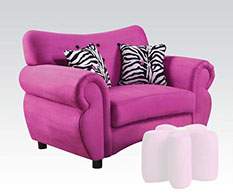 OUR WAREHOUSE
2210 Marine Avenue, Suite E
Gardena, California 90249
OFFICE: 562-726-2538
PARTS: 424-240-5240