Craigslist-Specials
Jeep Grand Wagoneer Passenger Front Seat 1984-1991
Jeep Grand Wagoneer Rear Seat 1984-1991
Jeep Grand Wagoneer 15" Wheels And Tires 1984-1991
Jeep Wagoneer, Fsj, J10, J20 Aluminum Grill Headlight Bezels 1963 - 91
Jeep Grand Wagoneer Grille 1984-1991
Mercedes Benz 230sl, 250se Engine
Mercedes Bosch Fuel Injection Pump 280sl, 280se Coupe
Mercedes Benz 2000 - 2002 E320/E430 Gear Shifter
Mercedes Benz 300td 280te Wagon Rear Door 123
Mercedes Benz Door Panel 1998-2003 Mercedes Clk-Class W208 Clk5
Mercedes 500sl 300sl Outside Mirror 129
Mercedes 129 Hood 320sl, 500sl, 600sl
Mercedes Benz 300d 240d Euro Front Bumper 123
Mercedes Benz 2000 - 2002 E320/E430 Hood
Mercedes 126 Euro Front Bumper 300se 300sd 560sel 420sel
Mercedes Benz 1995 E320 W124 Wiring Harness
Mercedes Benz 140 Coupe S500 Grill
Mercedes Benz 129 Front Bumper 320sl,500sl, 600sl 1990-1997
Mercedes 108/111 Hydro Pneumatic Compen 250se 280se ,109 300se 3.5,6.3
Mercedes 108/111 Hubcap 250se 280se ,109 300se 3.5,6.3
Mercedes Benz E320 Front Bumper 210 Chassis 1996- 1999
Mercedes Benz Servo 450sl,300sd,300cd , 123,116,107
Mercedes Benz 2000 - 2002 E320/E430 Front Bumper
Mercedes S 500 Wood And Leather Steering Wheel
Mercedes C Class W203 Steering Wheel / Leather Wood Grey
Mercedes Benz 1995 E320 Rear Bumper
Mercedes Benz 107/450sl Black Convertible Soft Top W Frame 1972-89
Mercedes Benz Under Dash Ac Unit W111 W120 W121 Fin Tail Ponton Fr
Mercedes 108/ 111/ 113 Engine Head 280se /280sl
Mercedes Benz 126 Sedan Euro Head Lights 560sel,420sel Pair 1983-1991
Rare Mercedes 124 Chassis Vent Diesel E300 Passenger Fender
Mercedes Benz 280se W111 Coupe Black Leather Seats
Mercedes Benz 300td 280te Wagon Complete Hatch Rear 123 Chassis
Mercedes Benz 1995 E320 W124 E420 Pair Headlights
Mercedes Benz 560sec Euro Front Bumper
Mercedes Benz 560sl Fuel Distributor 560sel,
Mercedes 107 Chassis Aluminum Hood 1972-1989
Mercedes 126 Coupe 560sec, 500sec, 380sec Coupe Grill
Mercedes 111/ 109 Center Arm Rest 1968-1971
Mercedes Benz 107 Passenger Side Fender 560sl, 380sl, 450sl, 350sl
Mercedes Benz 2003 - 2007 E350/E430 E550 Front Bumper
Mercedes Benz 2003 -2007 E350/E430/E550 Black Hood
Mercedes Benz AMG 17 Inch Wheels 1985-2005
Mercedes W107,W140 W124,W126,W116, W210 Wood And Leather Steering Wheel
Mercedes Benz W107 450slc Black Leather Front
Mercedes Benz 280se W111 Coupe Black Leather Seats
Mercedes 108/ 111/ 113 Engine Head 280se /280sl
Mercedes Benz 126 Sedan Euro Head Lights 560sel,420sel Pair 1983-1991
Rare Mercedes 124 Chassis Vent Diesel E300 Passenger Fender
This RARE Mercedes 124 Chassis E320 Passenger Fender is used and is in very good condition!
​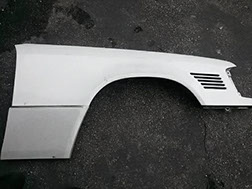 Mercedes Benz 250se Parts Car Sedan For Sale! 1967
​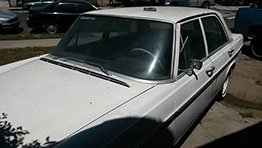 1967 Mercedes Benz 250se sedan parts car for sale!
THE SEATS ARE IN GOOD CONDITION WITH ONE SMALL
WEAR ON THE DRIVER SEAT.
NO RUST!!!!!!!!!!!!!! NOT RUNNING!
This car comes with bill of sale! No title!
THIS CAR HAS THE SAME ENGINE & TRANSMISSION AS the 230SL,250SL AND 250SE COUPE AND CONVERTIBLE!
Has been sitting for a few years because of other projects
The condition is Fair
Don't miss your chance to own it!
Buyer is responsible for all fees associated with tax, tags,title and licenses.
CALL FOR DETAILS!